Research and development project ResiTrac


ResiTrac - Resilient Food Production with Green Tractors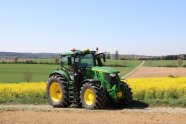 Prototype of a John Deere pure plant oil tractor of the 6R series
Agricultural machinery has a big impact on the CO2 footprint of modern farming. Machines typically have combustion engines and burn fossil fuels like diesel. ResiTrac has the goal to develop, test and introduce tractors to the market which do not use diesel, but pure plant oil (PPO) like rapeseed oil. This does not only reduce the CO2 footprint of food production, it also makes the farmer independent from the volatile market of imported fossil fuels, because he can grow the necessary oil crops on his own farm. The tractors will be developed by John Deere and tested in Italy, Switzerland and Germany under the accompanying scientific research of the Bern University of Applied Sciences, the Laimburg Research Centre and the TFZ.
Goal
The project ResiTrac (Resilient Food Production with Green Tractors) has the goal to develop, test and introduce tractors to the market that can be operated with 100 % pure plant oil (PPO) with equal power performance and maintenance to serial diesel operation, comfortable regeneration of the exhaust gas aftertreatment system and the capability of using different kinds of PPO, depending on the regional availability (e. g. rapeseed oil, sunflower oil, soybean oil).
Methodology/Key Activities
The engine controller software and some hardware components of current tractors will be adapted to the differing fuel characteristics by John Deere. A fleet of tractors will be equipped with the developed technology and supplied to farms in Italy, Switzerland, and Germany to demonstrate the practicability and usability in real farming operations. The machines will also be tested on tractor test benches to ensure the reliability of the engines as well as the compliance to emission regulations. Furthermore, emissions are measured on tractors in real farming operations in the field and CO2-reduction potential will be calculated. The results will allow life cycle assessment of these tractors compared to standard diesel tractors.
Current Impressions
The kick-off meeting took place on March 28, 2023 in Straubing with the project participants from the Berne University of Applied Sciences (Department of the School of Agricultural, Forest and Food Sciences), the Laimburg Research Centre in South Tirol, John Deere GmbH & Co. KG and the TFZ.
Results
The results will be available here at the end of the project.
Project information
Project title: ResiTrac - Resilient Food Production with Green Tractors
Project leader: Dr. Edgar Remmele
Person responsible: Kaspar Obermaier
Project duration: January 01, 2023 to December 31, 2024
Funding agency: eit Food, co-funded by the European Union
Project partners:
- John Deere GmbH und Co. KG, Germany
- Berne University of Applied Sciences / School of Agricultural, Forest and Food Sciences (BFH/HAFL), Switzerland
- Laimburg Research Centre, Italy