Research and development project MuSt5-Trak


Development and field test of a multi-fuel tractor compliant with emission stage V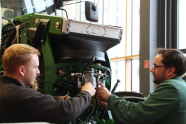 Based on a standard production diesel tractor the John Deere European Technology Innovation Center is developing a Euro emissions stage V multi-fuel tractor, which is capable of running on divers fuels (vegetable oil, biodiesel, diesel) as well as mixtures of those. For this purpose the tractor will get a fuel analysis system which will provide data for the management of the engine control according to the used fuel. This system will be tested in practical application. The multi-fuel tractor should be able to operate with different fuels and fuel mixtures in a reliable, efficient and low emission manner. This project should help to increase the market introduction chances of vegetable oil powered agricultural and forestry machines.
Goal
The overall goal of this joint research project is the development of a European emission stage V multi-fuel tractor with the highest possible fuel flexibility combined with a high level of operative reliability and a low barrier for biofuels regarding market entry. The sub-project which is carried out by the Technology and Support Centre (TFZ) is tasked with testing and rating sensors for fuel recognition and field tests of the multi-fuel concept.
Methodology
The major project parts of the sub-project are:
Evaluation of sensors
Development of a model for fuel detection
Emission and performance tests on the tractors with different fuels and fuel mixtures on the tractor test stand
Field tests with the tractors with rapeseed oil as well as in multi-fuel mode
Current impressions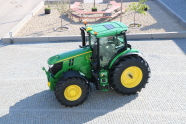 On 18th of April the second tractor of the MuSt5-Trak project was delivered to the TFZ. As the other tractor this one will be tested on emissions at the TFZ before it will be sent to the LfL testing farm. Almesbach for field trails.
LfL-location Almesbach (DE)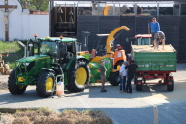 First practical test use of the project tractor John Deere 6135R supporting the project "Innovative processing techniques for wood fuels", which aims to integrate innovative production ways of wood fuels in conventional process chains.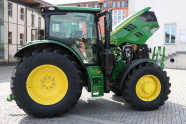 On 2nd of April the first of the project tractors of the MuSt5-Trak project was received from John Deere (ETIC) by the TFZ to be tested on emissions, before it will be sent to the testing farm of the LfL in Grub for practical field tests.
LfL-location Grub (DE)

Further information
Project information
Project title: Development and field test on an emission stage V multi fuel tractor
Sub-project: Sensor test and investigation of overall system at the tractor test stand and in field operation
Sub-project leader: Dr. Edgar Remmele
Person responsible: Julian Spiegel
Project duration: 1st of Novembre 2018 to 30th of April 2021
Funding agency: Fachagentur für Nachwachsende Rohstoffe e. V.
Financial support: Federal Ministry of Food and Agriculture
Support code: 22408617

Project partners:
John Deere GmbH & Co. KG - European Technology Innovation Center (overall project leader)
Technical University of Kaiserslautern - Institute of Vehicle Propulsion Systems (LAF)